Epson EV-110 digital lighting projector
The EV-110 is an innovative and versatile 2,200 lumens laser projection solution for creating experiential displays and digital signage.
Add movement and life to retail displays, hospitality events, visitor experiences, galleries, museums, corporate environments, or exhibitions, with a low visual noise projector that blends into any environment. The EV-110 brings lighting and projection together and perfectly combines high design, high image quality, and installation flexibility.
Designed for Commerical Fit-Out
Epson's EV-110 comes in white in order to seamlessly blend into existing designs of retail space. The attention of shoppers will be focused on the visual experience, not distracted by the projector.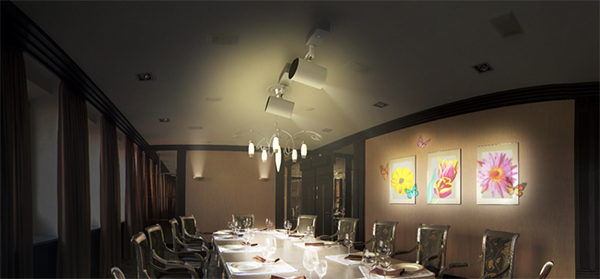 Minimalist design – maximum impact
The LightScene projector allows users to unlock their creativity and project instantly appealing visuals, with sharp WXGA resolution and 2,200 lumens brightness. Thanks to its discreet design, it can be used where a traditional projector may stand out. A black version is also available.
Simple, flexible implementation
A lightweight, adaptable design means the EV-110 can be installed in a variety of ways, from a traditional ceiling mount to a freestanding floor mount, or attached to a lighting track, including recessed lighting tracks.
Signage-ready
Featuring a built-in media player with wireless content upload, allowing playlists to be loaded onto an SD card and played directly from the projector1. The EV-110 also features HDMI connectivity for simple integration into content management systems without specialist installation.
Advanced installations made easy
The GPI function supports direct sensor connectivity for creating dynamic experiences that can adapt to situational changes without the need for costly external hardware. The projector also uses advanced techniques such as edge blending to achieve stunning results in larger spaces that require multiple unit installations.
Fit and forget reliability
A five-year warranty, combined with Epson's reliable laser light source technology and sealed optical engine, means that the EV-110 does not require regular maintenance.
For more information on this product please click this link: https://www.epson.eu/en_EU/products/projectors/lighting-and-signage/lightscene-ev-110/p/30892