The Epson EB-695Wi is a feature-rich ultra-short-throw interactive projector designed to enhance collaboration and engagement in educational and business environments. With its advanced technology and interactive capabilities, it transforms any surface into an interactive whiteboard, making presentations and lessons more dynamic and immersive.
Featuring a high brightness output of up to 3,500 lumens, the EB-695Wi delivers vibrant and clear images, even in well-lit rooms. Its ultra-short-throw design allows it to be placed close to the screen, minimizing shadows and creating a large, interactive projection area.

The Epson EB-695Wi has a brightness of 3,500 lumens and HD-ready WXGA resolution, the ultra-short-throw design allows you to present large images from a very short distance with minimised shadows and glare. This projector offers ultimate interactivity by combining finger-touch with dual pen capability. A 14,000:1 contrast ratio and HDMI input mean that students benefit from sharp, clear images. Versatile ultra-short throw displays for classroom collaboration ; 3 x Brighter Colours and reliable performance.

The Epson EB-695wi integrated multi-PC projection software allows teachers and students to share content simultaneously. The moderator function allows teachers to remain in control, choosing what content to display. Split-screen capability allows teachers to display two separate types of content simultaneously, such as a lesson plan from a PC and a still image or video clip from a document camera.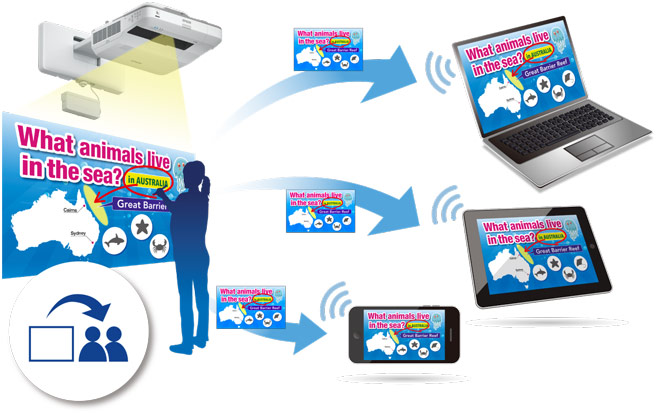 WIRELESS CLASSROOMS
Epson iProjection™ via optional wireless dongle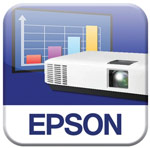 Epson iProjection is the wireless display solution for today's BYOD classrooms. With true multi-platform support, students can wirelessly display content from Chromebooks, PCs and Mac® computers, as well as iOS and Android devices.
When used in conjunction with Epson Multi-PC projection plus Moderator device management software4, up to 50 users can connect to the projector simultaneously, displaying content from as many as four at a time. It's the perfect tool for displaying a variety of content — or for comparing students' work side by side.
Networking features that take teaching to the next level
Manage up to 1,024 Epson networked displays using the included EasyMP® Monitor software or Crestron RoomView® — saves time and money
Update display firmware in-house via the network, a USB cable, or a USB flash drive — eliminates the need for external service centre repairs; saves t
ime and money
Send updates or announcements remotely to up to 1,024 Epson networked displays using the Message Broadcasting plug-in for EasyMP Monitor
Connect your display to an access point to share it with the entire class, without running more cables
Designed for today's BYOD classroom, the Epson EB-695wi series takes classroom collaboration further. Offering 3x Higher Colour Brightness1 than competitive models, Epson® 3LCD projectors and displays ensure bright, vivid images. It features optional wireless functionality (module sold separately) and advanced connectivity, so teachers can easily share content from multiple student devices, including Chromebooks — up to four at once with Moderator software2. Plus, its lamp lasts up to 10,000 hours in ECO Mode.
All Epson projectors are based on 3-chip LCD technology for amazing colour, incredible detail and solid reliability. 3LCD's 3-chip architecture dedicates an entire chip to process each primary colour – red, green and blue, continuously. Unlike single-chip technology that delivers colour sequentially, you get full-time colour. The result is vibrant, realistic images and video all delivered with 3LCD's true-to-life colour.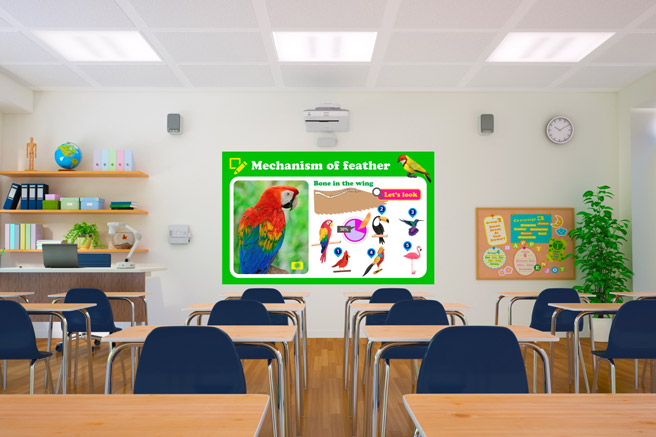 Wide viewing angle
Clear images can be seen from any angle with no limitations of reflective glare. Projected images also allow you to get closer to the image without straining your eyes.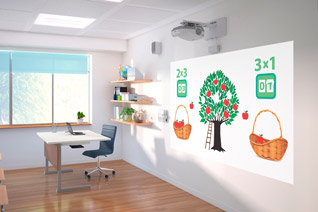 High Resolution
Featuring native resolution of WXGA (1280 x 800), the Epson EB-695wi delivers high quality images and crisp, sharp text without any distortion.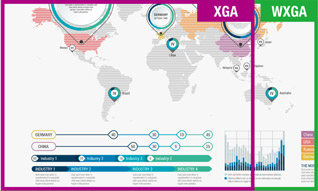 *Please note: this projector needs an additional mounting bracket for installation in most situations. See Epson
ELPMB62
or similar
Epson EB-695wi Epson EB-695wi Epson EB-695wi