Epson CO-FH02 projects a big screen experience in the home or office.
Featuring Full HD resolution, the CO-FH02 projects crystal-clear images with vibrant colours and sharp details. Whether you're watching movies, gaming, or giving presentations, this projector ensures that every visual element comes to life in stunning clarity. Its 3000 lumens brightness ensures that your content is visible even in well-lit environments.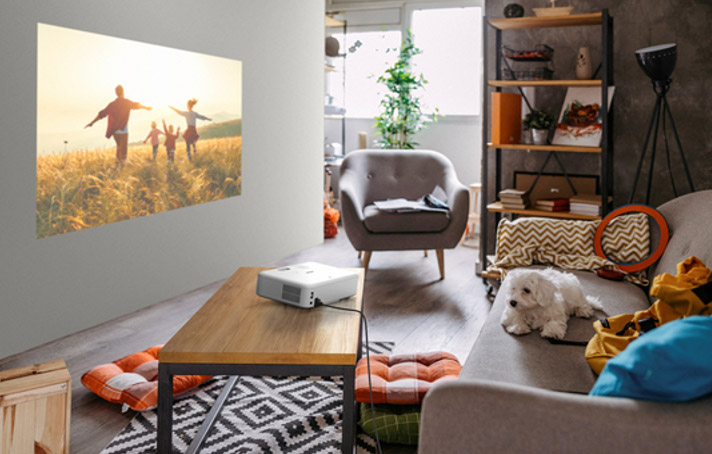 Smart Projector
What sets the CO-FH02 apart is its smart functionality. With built-in Wi-Fi and integrated streaming apps, you can easily access and enjoy your favourite content from platforms like Netflix, YouTube, and more, directly from the projector. Its compatibility with popular voice assistants like Amazon Alexa and Google Assistant offers convenient, hands-free control.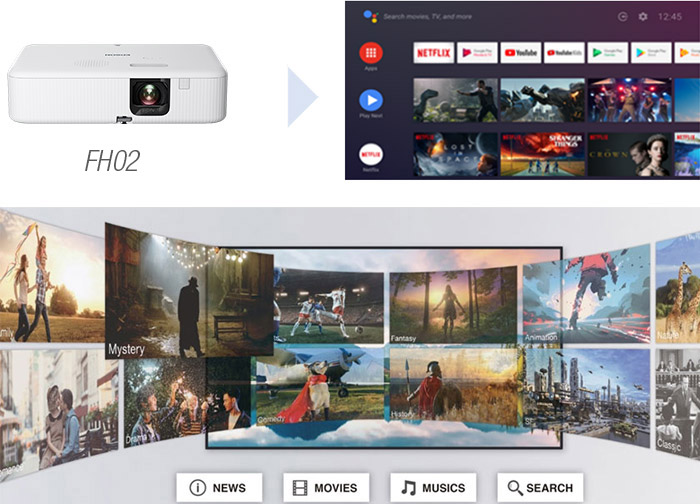 Simple set up
We don't think a home projector should be any more complicated to use than a TV. That's why this projector is hassle-free and quick to set up with features such as keystone correction to help quickly position the image.
Accessing your entertainment is easy too with the HDMI input for connecting games consoles and more. Best of all, these android projectors are super easy to use, letting you watch, play, and do everything you love, only bigger and better.
High-quality, bright images
Even in bright rooms, the Epson CO-FH02 projector delivers exceptionally bright yet colourful images with clear details. It's all thanks to 3LCD technology, which produces an equally high White and Colour Light Output of 3,000 lumens.
Key Features – Epson CO-FH02
Enjoy the big screen experience Supersize your favourite films, games and sporting events at home
Easy to set up Keystone correction, built-in Android and HDMI
Long-lasting solution 18 years¹ worth of entertainment
Affordable, high-tech equipment Enjoy this Full HD 1080p projector
Impressive, bright display Equally high White and Colour Light Output of 3,000 lumens